Finding Google My Business Keywords
and example of how to find what terms to focus on for your GMB service or products
Using the right keywords and topics in your content will help search engines show your business to more customers.
But, it's important to consider the intent behind the words that you're choosing and where to use them.
Words for commercial or buyer intent is best to use on Google My Business. And if you have a keyphrase that is more info based is better served as a blog or
---
Why the topic of intent and keywords
I like to help when I can. I work with GMB everyday and finding keywords and topics is part of the job – Check out my Google My Business Services Page
A user asked a question on r/GoogleMyBusiness about ranking for a keyword where there is no other GMB ranking for that term. You can see the discussion here on Reddit – GMB Optimization Question.
If you're a business owner there are some good conversations on r/GoogleMyBusiness and Local SEO Community. I'd recommend checking them out.
---
ranking a keyword when there are no results in google my business for that keyword
Basically, a digital marketer has a client that wants to rank for the term "monoclonal IG treatment" as a COVID treatment. They have a client with a health clinic and a NEW service.
But this isn't just a new service – it's widely unknown and only a small amount of providers are offering it. It's not like adding "flu shots" to your current services – people know what these are.
When a term or service is very new and there is a chance that people don't know about it yet, there's also a good chance that Google doesn't know about it yet.
Google uses search signals as one way to identify how to classify searches. Right now searches for "monoclonal IG treatment" are showing info and news articles – maybe that's what people want to know.
So to best capture customers for a service like this we need to dig into terms that can mean commercial intent. But first lets address keyword ranking and selection.
GMB Keyword ranking and Selection
I'm not going to go to deep on the topic of keyword selection but if you're a digital marketer or a business owner you will want to research the keyphrases around a topic you want to use for your service or products. Not just a single phrase.
No need to get cute, fancy or change things around. For Google My Business your keyword should be a phrase that has commercial or buyer intent. Be straight forward.
Looking for Buyers
When people are looking to buy something they are looking for providers for a product or service. GMB is designed to capture this type of customer – People who want to buy.
People looking for info on a product or service are generally going to skip ads and Google map business suggestions. They'll "generally" look for organic searches on the topic.
***It's also important to consider info terms so you can add this content to a website and BOOST your GMB profile related to the topic involved. In addition to finding keyphrases for buyer intent, looking to capture info terms can easily pull buyers on the fence into your product or service.
Also – business owners and digital marketers please stop buying and selling a service on keywords alone. Look to market your business around a TOPIC.
---
looking for those intent keywords
I feel I was pretty straight forward in the Reddit convo – here's a screenshot.
---
don't forget about location identifiers
But even after giving the user a starting point for "autoimmune therapy" and branching to "Intravenous Immunoglobulin Therapy" or "Monoclonal Antibody Therapy" – they were still a bit lost.
But it was because they were still using the general terms and not digging deeper into what these terms mean and brainstorming what people might search for.
When doing local SEO it's important to get the search results for that local area. This can be accomplished by adding the actual location into the search. So look at "phrase" + "location".
dig deeper into keyword intent
When researching keywords it's a good idea to look for general topics as well. It can help uncover some commercial intent keywords that might be used by a consumer.
Doing a little fast reading of a few articles I understand that this is a potential COVID treatment that uses an IV, or intravenous therapy for people who have been exposed but not yet admitted to the hospital, or for those at high risk. In this case IV therapy, COVID therapy, and COVID treatment could be good phrases to start with.
I searched for these and variations to see if there are some GMB's that populate. This is how I classified them:
Returns GMB
covid shot Victoria, Texas
covid test Victoria, Texas
iv therapy Victoria, Texas
infusion therapy Victoria, Texas
No GMB/Good Commercial Intent
covid therapy Victoria, Texas
covid treatment Victoria, Texas
monoclonal antibody treatment Victoria, Texas
COVID-19 treatment center Victoria, Texas
COVID-19 Infusion Center near me
No GMB/Info Based/Low Intent
initial Thoughts on quick search results
From doing a quick search for keywords and seeing how Google interprets this info I would put "covid therapy Victoria, Texas" and "covid treatment Victoria, Texas" high on the list.
Just under that I would also keep an eye on "COVID-19 treatment center Victoria, Texas" and "COVID-19 Infusion Center near me" and fold these phrases into some content.
As a Digital Marketer Your More Than Just Ranking Keywords
From a digital marketing perspective I would also tell the client to make sure that their business is registered as an infusion center. I saw a few "infusion center locators" pop up. They already rank high and if they get their business listed it's another leg up for their efforts.
---
What to do with these high priority phrases
Use Them in Google My Business
Add a product around these keywords
Add a service around these keywords
Write posts about the service or product – user friendly.
Add photos that are info based – quick and easy to digest.
Use Them on Your Website
Match the product or service phrase with a product or service page.
If you have an active blog – blog about it.
Find and use additional phrases that match and align with those phrases
---
Final Thought
During my search I saw that Google My Business was displaying COVID Vaccine and COVID Testing locations on the actual GMB page for clients.
I think it's only a matter of time before they adopt COVID Treatment or COVID Therapy to this as well. But I have no idea how long this will take.
Google has been a bit protective over COVID info, so any move they make will require some time.
If you have a clinic and offer these services find out how those services were added to your GMB profile. Do you have someone managing your GMB or did Google learn this from your website?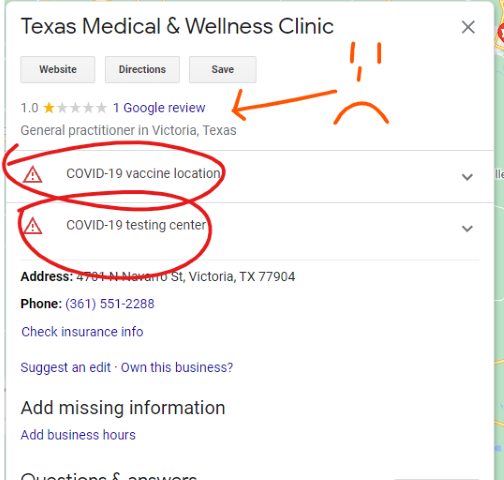 There's a good chance that Google learned what you offer from your site. If this is the case you need to have the content your users find important easy to find and understand. Google My Business is a POWERFUL local SEO tool that creates local business. It ties in really well with an optimized website.
---
Contact me
If you have questions or are interested in getting this and many other SEO or SEM services, please reach out.