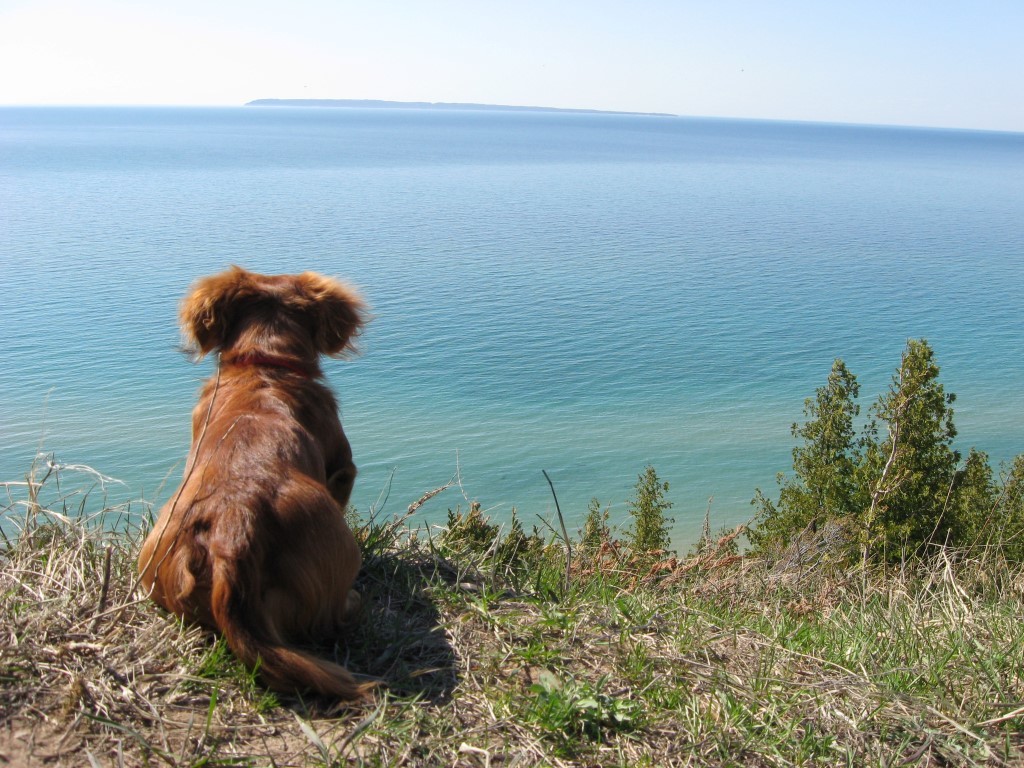 traverse, Michigan Digital Marketing Consultant
get Your Business Online – Where customers search
"97% of people learn about a local business online." – SEO Tribunal
Digital marketing for Traverse city Businesses
Customers are looking for your business – ONLINE!
There are several ways you can market your business, but one thing is for sure – a local business in Traverse needs to have an online presence.
Customers are searching for what you offer online before they look anywhere else. Even if they hear about your business from a friend or in another form of marketing – they're going to your website to learn more.
Of all the 3.5 billion searches that happen EVERYDAY – 46% of those internet searches are for local businesses. That's 1.6 billion searches for something local a day. If you're business isn't showing up when customers search you missing out on a HUGE opportunity.
I want to help your business get in front of people when they're looking. The best ways we do this is by using marketing channels that make it easy for customers to find you. Once we get those eyeballs I want to help your website convert those customers to sales.
If you're ready to know more, reach out for a free consultation – Contact Me Here
---
Online Marketing Services for TC
Analytics & Reporting
Understand your marketing efforts to make better decisions.
Local SEO
Local SEO for a local customer. SEO is marketing, and pays you for years.
Google My business
The BIGGEST part of your local SEO strategy.
Website Copy
What and how you communicate has the BIGGEST impact on customers.
Local Service Ads
For a limited segment of businesses but POWERFUL leads!
More About LSA's
Google Search Ads
If you need leads NOW – Google Ads is a fast way to get them.
More About Google Search Ads
---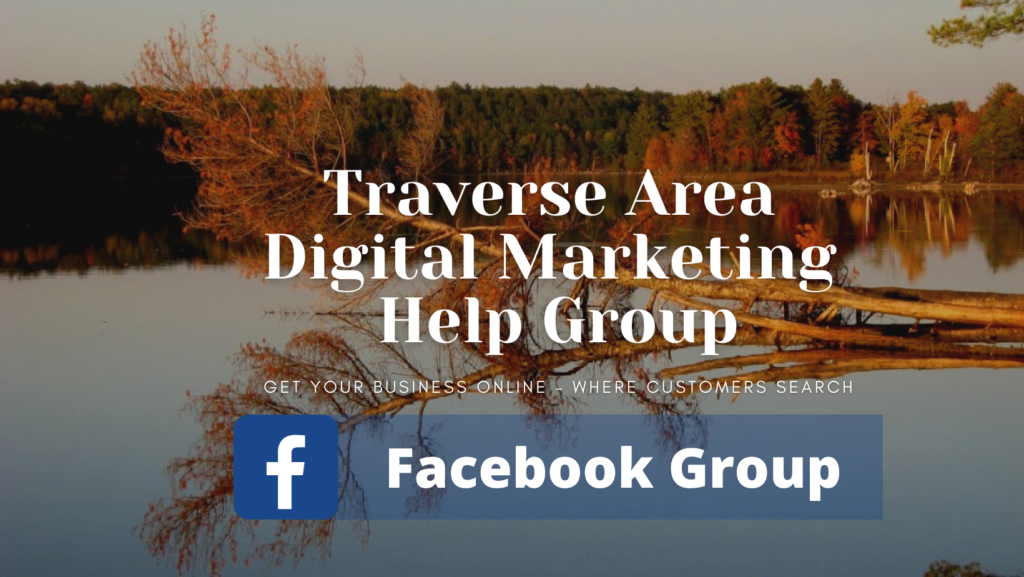 Check Out My Facebook Group
Traverse Area Digital Marketing Help Group
Website are great for portraying info in a quick and easy way, but social media, forums and email are also an effective way to convey info.
I'm not much into Facebook but their group feature is a handy 2-way communication channel. I find it a good way to connect with business owners and the struggles they have.
you need more than a facebook page
Local businesses should have a Facebook page, or other social channels that fit. But just starting a page and not maintaining it can do more harm than good.
AND – Social channels are no substitute for a good website.
If you've been sold on the social media marketing hype and aren't getting good customers from it – or worse you don't know you aren't getting customers – you're wasting your money. You could invest in a better marketing strategy. Social channels have their place, but for many local businesses these channels are too much effort for what you get back.
I'd recommend a local SEO strategy for long term growth and ads on search and social channels for short term leads.
Here are some fun facts about local searches and SEO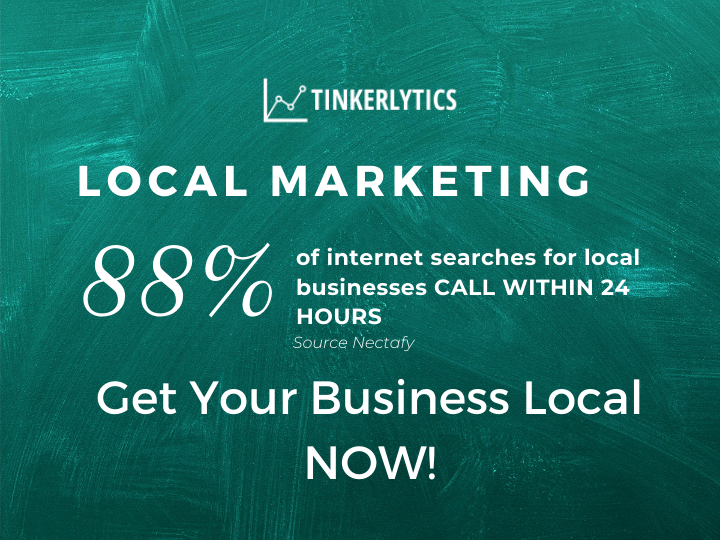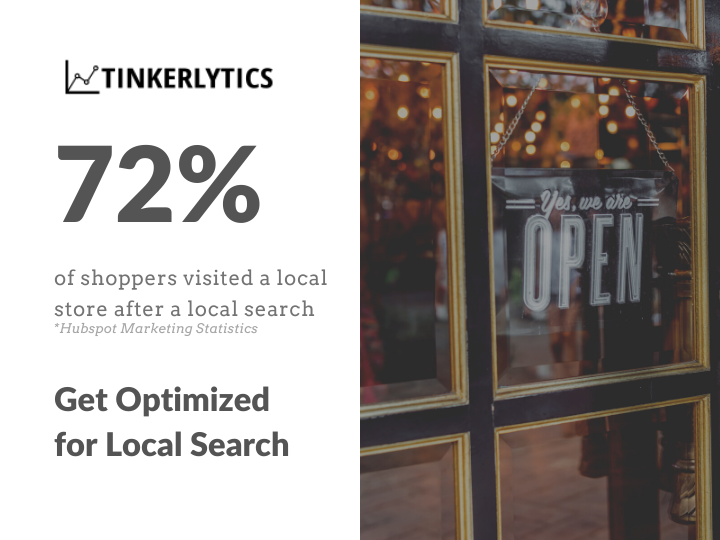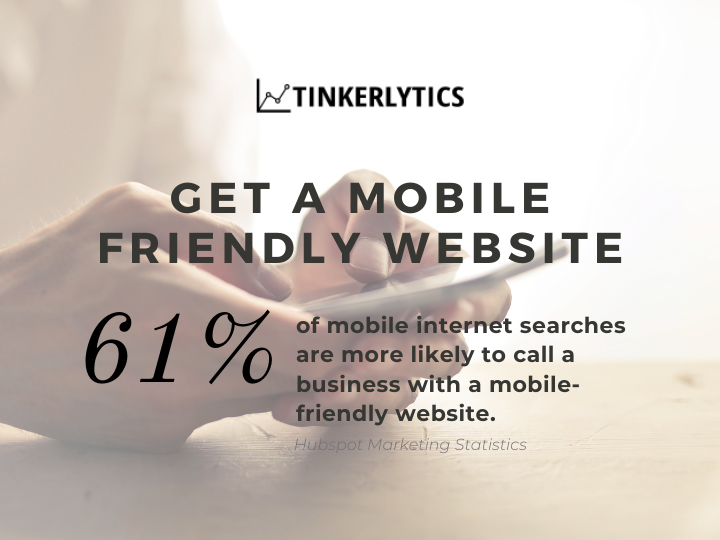 ---
I can help you market your business
For many businesses a physical location is very important. But in today's connected world your online business location is also important. Getting your business to show to your customers when they search is like getting that prime spot on a busy street. But instead of the location being an expensive building, it's a tough, hard to reach online spot.
Let me help you get in front of customers and attract new business.
Contact Me – use the form below
---
about tinkerlytics
Hey I'm Jeff. I spend most of my time in Bend. But I'm from Traverse and try to make it back for months at a time. Mainly in the summer – my favorite.
I come from a background of entrepreneurship, sales, and customer service. I'd say I have good business acumen in the SMB or SME spaces. I've worked with several small, local businesses and smaller enterprises.
The online digital marketing space is constantly changing. What worked last year could be obsolete now. But there are foundational marketing functions that have never changed. And what's important for your business is to make sure you're setup and ready to take advantage of any new opportunities while keeping focus on what's working now.
---
serving northern michigan