SEO Consulting

Traverse City, MI
Attract visitors organically and build your visibility
SEO is a marketing strategy that helps your website show up higher on search pages.
It works ALL THE TIME, not just when you stop paying – like with Ads.
How SEO works for your business – simplified
SEO Means Search Engine Optimizations
Search engines use information from your website to try and understand what your business is about. They then use this information to display your website for relevant search terms people use when using search engines. When you think search engines think Google, Bing, Yahoo – etc.
When someone uses a search engine they're looking to answer a question or fill a need or desire. For search engines to make money they want to deliver the best result for searchers. These engines WANT to make sure they're doing their best for their customer – the searcher.
SEO is a marketing strategy that makes sure that your website looks good in the eyes of the search engines – as well as the searcher. If search engines like your site, they'll show it to more people and that means more potential customers.
For instance – If a home builders website shows on the top of the search results for something like "custom built home" there is a great chance most people who search will call. And when using SEO techniques we have a great chance of this happening.
SEO is one of the best marketing strategies local businesses can use for long term business success.
Get started or ask a question
Did you know?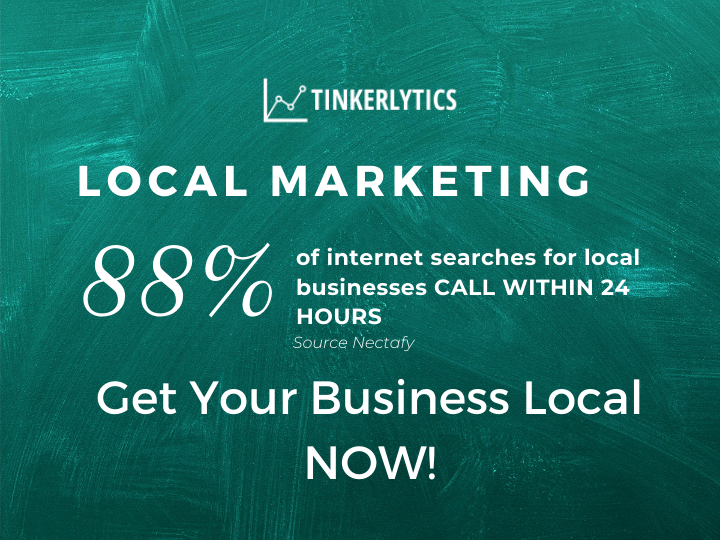 Website Traffic from SEO continues to grow when done right
If you're website is doing a great job at explaining to search engines who you are, what you do, and how you can help them – you're likely doing a well with customers too. Search engines reward websites that focus on the website user and creates an experience the searcher enjoys. The better your site does in search the more traffic you'll get.
More Traffic = More Potential Customers
But more traffic and more potential customers isn't just for SEO and organic traffic. The more traffic you get from other sources such as ads or social media can also lead to more potential customers.
But unlike when you pay for ads, organic traffic doesn't stop when you stop working on SEO. With ads you can see how many potential leads $1 gets you. Stop paying and the leads stop too. Spending money with SEO means your leads grow over time. Stop working on SEO and eventually the leads might slow, but will ever just go away.
This is why most websites want more organic traffic
The goal of most websites is to gain as much organic traffic as possible. Even if they pay for ads or have other ways to bring in potential customers. By using SEO your website can increase what keywords or phrases it shows up for in search engines.
For instance – back to the home builder – not only do we want to rank high for "custom build home" but we'll want to gain traction on: custom homes, custom houses, custom home builder, and a whole host of other key phrases that someone might use when they need a a home built.
Anytime someone might type a search phrase similar to any of these your website has a good chance at getting a customer.
using SEO to attract customers when they're looking
With ads you can target key phrases that you think your customers will use when they're ready to buy. If you spend enough money your ad can show up on top, before everyone else.
SEO works in a similar way. We can use Search Engine Optimization Marketing to target key phrases that can lead to a sales – or a lead – or a customer for a later time.
SEO is Different Than Social Media
Posting on your social media account might lead to a customer. But you'll have to reach that person with the right message at the right time. There is a whole strategy for how to guide potential customers down your sales funnel with social media. But it's not substitution for SEO. .
How often do you remember a post on social media from a home builder and think about giving them a call? More often than not you're jumping social media after business hours and when you're not ready to purchase.
But with SEO, when they search for home builder – your website can show up. Just like with ads on search engines and social media. But with SEO you're not constantly paying. Your site is constantly in the search results, ready to attract customers. Waiting for when they are ready.
Don't mistake a facebook page for a website
It's great to have a Facebook page, so go ahead and start one, but it's not as powerful as a website. Your website is your best sales person. And it's something you can control.
When someone searches for your business name you want to be able to show them who you are and what you can do. A Facebook page doesn't convey this easily. Don't make your customers dig around for info.
The info on your website is one of your best selling tools. The copy on your site is something you can control, check out my copywriting services for more info. The message on your online profiles is VERY important. Without good messaging customers will have a hard time figuring out if you can help them. Again don't make them dig.
get your business visible with SEO
Investing in SEO helps your website show up when people are searching for your business. This is what you want. More people seeing what you have to offer so they can decide to do business with you. The more people you can attract the better sales and revenue you'll get.
SEO mixes in well with paid ads, social media, or any other forms of marketing. If they see an ad on social media and then search for your business to call at a later date – you'll want to show up on the search page – that's SEO.
Reach out to get your business better visibility
If you're ready to explore what it takes to get your business performing better with search engine optimization – reach out.
There are various forms of SEO that can work for your business. I specialize in SEO for websites, this includes:
Local SEO
Technical SEO
On-Page SEO
Don't hesitate to start a conversation.