Google My Business Questions & Answers
Did you know that Google My Business Questions and Answers can show up in search results?
gmb Questions and Answers feature
Questions and Answers in Google My Business is the ability for people to ask questions directly about your business – and for you to answer them.
People can view your business on search pages or in Google maps and ask you a question directly on that page. No need to go to your website, email you or fill out a contact form.
The questions are public for anyone to see at anytime, they are also pickup by search engines.
The answers are also public. But anyone who sees your profile or can ask you a question can also answer any question asked.
If you were searching for a product or service and you had a question, would you rather have it answered by the business, or by a random stranger?
So it's important that you understand and utilize this feature so you can provide users with a better user experience, and give Google a little more info too.
---
More about Google My business
an often overlooked gmb feature
It's easy to miss this feature because Google doesn't put the Q&A feature in your face like many of the other features. It doesn't have it's own tab or section. You'll need to jump over to your actual profile on a search results or maps page to find it and use it.
On mobile it's a tad harder to find the right spot to ask and answer, I recommend using the desktop version if you're unfamiliar.
But it's an area you shouldn't forget about and should be apart of your optimization and management. If you don't manage your own Google My Business Profile make sure whoever does optimizes this section and continues to manage it. Seeding questions and answering them on a regular basis is helpful for customers and for Google to understand your business better.
---
The Questions & Answer Feature Has Several Benefits
Google My Business is constantly changing and with it so does the Questions and Answers feature. No one can know for sure if this section will become more or less powerful, but for now it's a great spot to add important information for your customers – AND Google.
Engage With Your Audience
Users asking DIRECT QUESTIONS TO YOU about what you offer or what you can do for them is a good sign of a potential customer. They found your listing, they're interested in something, and they want to know more. They could be very close to doing business with you.
Not only does this give your business the opportunity to work directly with that single customer, but the questions and answers and publicly displayed for anyone to see. Other people very likely have the same or similar question. If you're answer did a good job it will help many other looking at your info.
GMB Q&A Shows in Search Results
As a digital marketer, and someone who works in SEO, having this information indexed by Google is helpful, and VERY INTERESTING!
Google uses signals from many sources to deliver information to their customers – the searcher. If Google is indexing and serving up Q&A data from your Google My Business profile it means they have found a connection between information people are searching for, and what your business offers.
The more this happens the more authority and expertise your Google profile and website has with Google and the more they display your website. This increases your chances of getting more customers.
A Good Spot to Add Keyword Related Data
Since Google uses this information that means they are reading and trying to understand this information. They likely like that this is user generated content. So adding keywords to any answers is a good idea – you can also add links to other resources like landing pages or service pages.
But ALWAYS remember – answer the question and write for people, not for Google. It doesn't work out well if your answer is robotic and unclear. If you answer any question make sure you're removing friction for the user.
Reduce Friction for Potential Customers
When answering any questions, make it easy, clear, and concise. IT'S ALWAYS BETTER. If you're customer is asking if you'll be open on a certain date – don't link to your hours – answer with a yes or no.
It's well known that reducing any friction during the buyers journey leads to better conversions. If a customer cannot get the information they came for there's a good chance they'll go somewhere else.
---
How to get to your gmb Questions and answer feature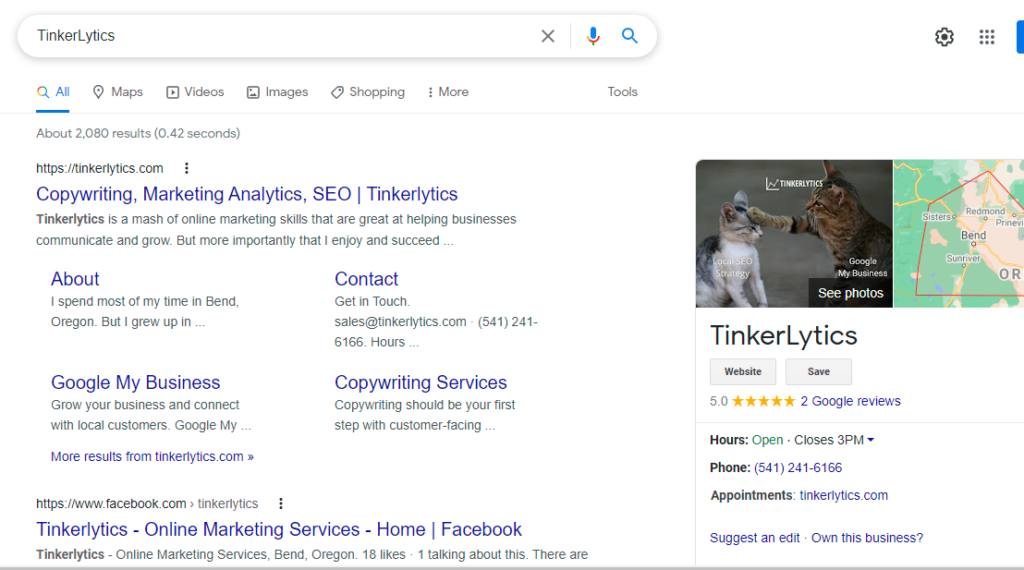 Using a Computer
If you're business is new you might need to add your location to the search for your listing to display.
Scroll down past your products and services and right before the reviews you'll see two lines and a button that says "Ask a question"
If you're signed into your Google Account used to manage the listing you'll be able to see all the questions by clicking "See all questions". This will open a new window where you can scroll through the questions – if there is any – and click on them to answer them.
Using a Mobile Device
The easiest way to do this on your phone is to navigate to Google Maps and make sure you're signed into the account associated with your GMB listing.
Type in your business name and search. You might have to add in a location to your name if you're a new business.
Scroll down and look for the Questions & answer section. You'll also see a box where you can ask your question like in the picture.
If there are any questions asked on your profile you'll be able to see them and answer them here.
---
seeding Google My Business questions
You can ask questions – and answer them too. You don't have to wait for questions to be posted to your account to answer them. Most GMB profiles don't have questions listed. It's not a feature that is used much – yet. But that doesn't mean it's not useful.
If a customer doesn't see questions posted they'll look for info somewhere else. If you have questions and answers posted there's a good chance they'll read them. If this information is relevant, there's a good chance you'll build up trust and authority.
Business owner or customer service people are the best people to seed questions. Think back about common questions you receive from your customers and post them here. Answer accordingly. Make sure they're thorough, clear, and concise – and it doesn't hurt to add in a relevant keyword or link to your website.
Tip to Finding Questions – Look at your competition. If the question aligns with your business ask it on your profile.
---
Seed and Check your Q&A frequently
Optimizing and managing a Google My Business profile isn't a one time process. You should be checking in on your listing weekly, posting regularly, and monitoring it for spam. Between managing a business, customers, social media you might find it hard to find the time.
If this you – you can hire me to optimize and manage your profile. More about GMB services here – https://tinkerlytics.com/google-my-business-management/
I suggest that you seed new Q&A's at least quarterly. Seeding more frequently won't hurt, but spamming your Q&A section with salesy questions can.
Check your Q&A weekly or make sure to sign into Google Maps on your phone so you can get some updates – there isn't any other way you'll get Q&A updates besides maps or having the GMB app.
Happy Optimizing!